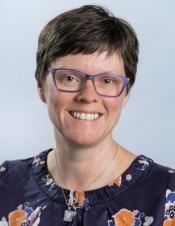 Cherie has overall operational responsibility for ExtraFood's county-wide food recovery and Community Meals programs, as well as overseeing business operations and partnering with the Executive Director on all major organizational decisions.
Cherie's program team is responsible for all food sourcing and recipient partnerships, fleet management, volunteer management, our technology platform, and food delivery logistics. Cherie is also responsible for ExtraFood's business operations — HR, IT, Finance, and Facilities — and overseeing outside service-providers in those areas.
Most recently, Cherie was Interim Executive Director and Director of Development and Outreach at Next Generation Scholars, a nonprofit working to help low-income middle and high-school students gain entry to college. Before that, Cherie was COO and Girls Leadership, a nonprofit focused on equipping girls with the skills to exercise the power of their voice. Cherie spent the initial phase of her career working for 18 years in the financial services industry, creating and leading global teams, bank networks, and complex technology initiatives.
In her spare time, Cherie is an active volunteer at local animal shelters, loves to be outdoors and spends her weekends spoiling her pitbull, Baloo. Her email address is Cherie@ExtraFood.org.