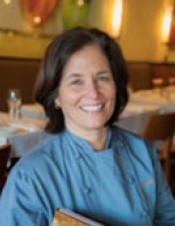 Heidi Insalata Krahling loves to cook for people. Whether it was growing up in Southern California, where her father often did the cooking for huge Knights of Columbus dinners, working as a chef for others, or serving as the chef of her own restaurant, Heidi has always enjoyed making others happy with her food.
Opening Insalata's (named in honor of her father, Italo Insalata) in 1996 was a natural step in her culinary career. Heidi says that the creation of Insalata's was also about timing, "You just know when it's time to work for yourself." In 2009 Heidi also opened a wildly popular restaurant down the street from Insalata's called Marinitas, serving luscious Latin inspired food and libations.
For eight years before opening Insalata's, Heidi was executive chef at Smith Ranch, an upscale adult community in San Rafael. She took this position after spending several years as chef at Butler's in Mill Valley, where she earned high regard from customers and food reviewers, culinary accolades from magazines such as Gourmet, Food and Wine, and Esquire, and critical acclaim such as USA Today's USA's Best Women Chefs, and San Francisco Focus Best Chef.
Prior to working at Butler's, Heidi honed her cooking skills as a student at Tante Marie's Cooking School and with Mediterranean expert Joyce Goldstein at Square One.
Heidi's passion for working is passed to others through classes at Tante Marie's, the Culinary Institute of America, Ramekins, and other Bay Area cooking schools. She also uses her energy and commitment in serving her community. Food, community, and family are the cornerstones of Heidi's life today as they have been throughout her life. Today, her restaurant, her food and her community involvement testify to how these influences have shaped her life.