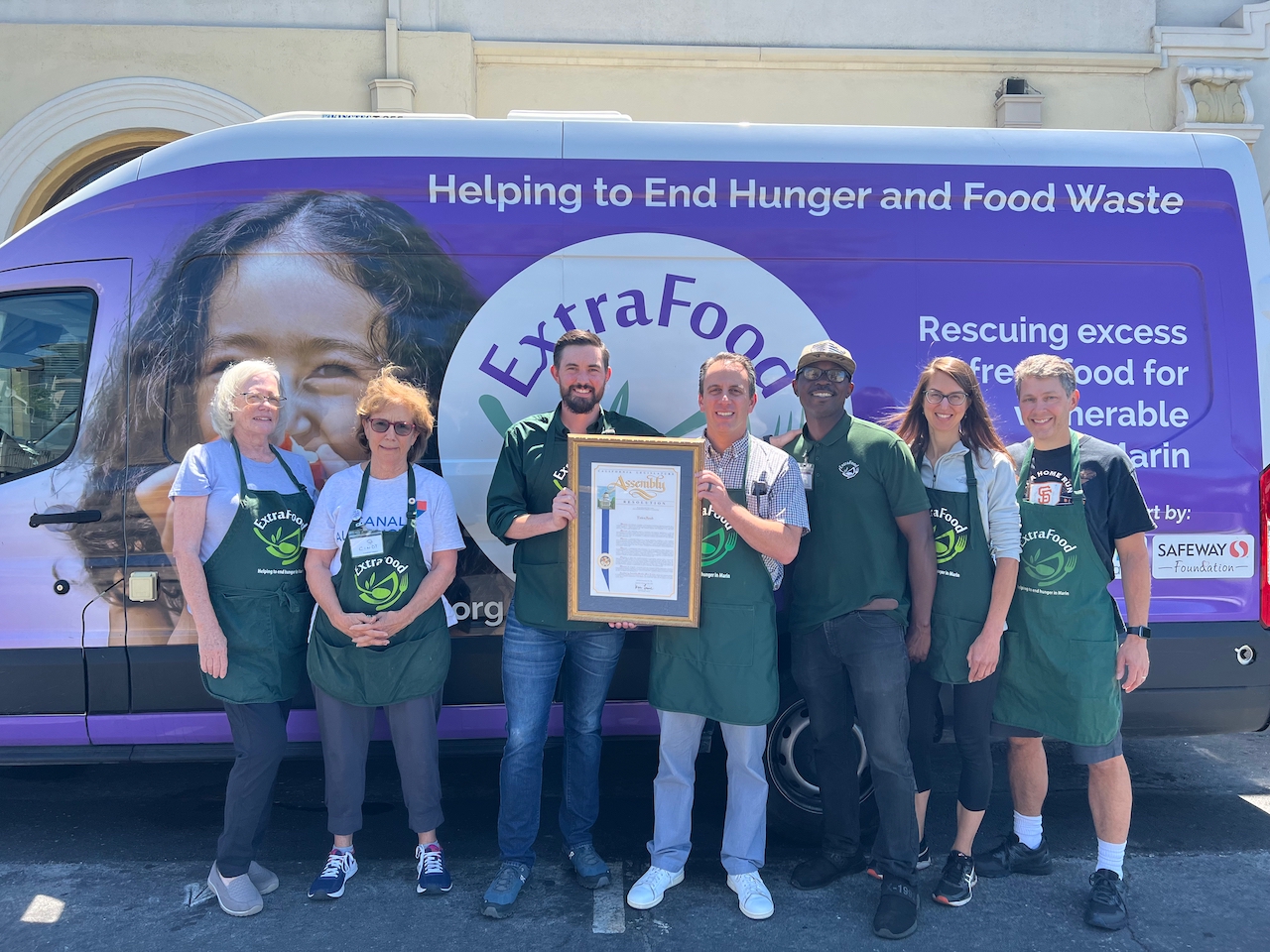 ExtraFood announced they were named Nonprofit of the Year for the North Bay by Assemblymember Marc Levine.
Assembly member Levine represents California's 10th Assembly District, which includes Marin and Sonoma counties. Each year, California Assembly members and State Senators are invited to honor a Nonprofit of the Year for their district. Co-sponsored by the Assembly Select Committee on the Nonprofit Sector, the Senate Select Committee on the Nonprofit Sector, and the California Association of Nonprofits (CalNonprofits), these awards:
Bring attention and recognition to outstanding nonprofits — especially in the local press where it often means the most.
Collectively illustrate the remarkable diversity and vibrancy of California's nonprofit community: big and small they touch Californians every day through health clinics, churches, American Legion posts, choral groups, Meals on Wheels, prison reform organizations, wildfire relief organizations, museums, environmental advocacy organizations, and more.
Give legislators a way to highlight some types of nonprofits that are often overlooked: all-volunteer organizations and nonprofits based in Black and other communities of color.
ExtraFood Executive Director Will Dittmar says "We are truly honored to receive this award from Assemblymember Levine for our work to end hunger and food waste in the North Bay. We accept this award on behalf of not only our small, mighty staff but also the hundreds of volunteers, food donors, recipient partners, and financial partners that work with us 365 days a year. Together we serve our community's most vulnerable children, seniors, and families."
Assemblymember Marc Levine says "I am proud to recognize and celebrate the important work of ExtraFood. They are an exceptional model for how to address hunger, reduce food waste, and fight climate change all at the same time. They are providing fresh, healthy foods to many who would not otherwise have access to it. And they have become a critical part of Marin County's emergency response, providing over 90,000 freshly-made meals during the COVID-19 pandemic alone. I am grateful for their work and service to the community."
For ExtraFood, everything starts with the needs of people in the community. Because if they have the food they need, children can learn, seniors can age in place with dignity, and adults can find jobs to lift themselves out of poverty. ExtraFood's vision is that food recovery will be a way of life in the North Bay, to enroll every possible business and school in their program and capture every possible pound of excess food.