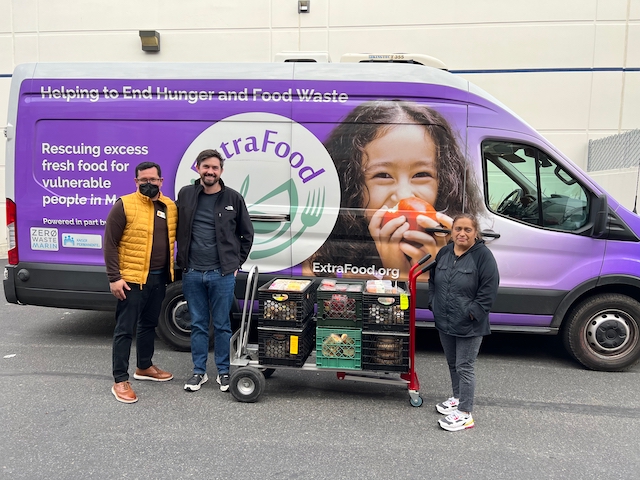 ExtraFood is partnering with food donors to rescue fresh food for people displaced by the recent Canal District fire.

On December 19th, a fire displaced 30 residents at the Meridian apartment complex in the Canal district of San Rafael. Supervisor Mary Sackett, and Fernando Barreto, Aide to Supervisor Dennis Rodoni, reached out to ExtraFood for help providing fresh food for the individuals now temporarily living at a local hotel. ExtraFood quickly sourced fresh food and meals from Nugget Markets, Whole Foods, Safeway, United Markets, Novato Community Hospital, Kaiser Hospital and several school programs to deliver to the residents and will continue to deliver food every day.
ExtraFood then reached out to another food rescue organization, San Francisco Food Runners, and asked if they could distribute meals from their commercial kitchen. Mary Risley, CEO of Food Runners responded by donating 90 meals including pesto pasta and pork with polenta, which ExtraFood immediately picked up and delivered to the residents.
Additionally, ExtraFood contacted one of their current food donors, Taqueria Mi Pueblo in Terra Linda, to see if they too could provide meals and they happily responded by committing to donate freshly cooked meals which ExtraFood Volunteer Annie L. picked up and delivered for the residents as a Christmas Eve dinner.
Fernando Barreto, Aide to Supervisor Dennis Rodoni, said of the collaboration: "We are extremely grateful to the rapid response of the ExtraFood team. With tons of love and compassion they are bringing hope to the displaced victims through healthy, fresh, and culturally competent food. It's a real honor to have ExtraFood as a reliable source of food for the most vulnerable in Marin."

ExtraFood Executive Director Will Dittmar says, "Using our well coordinated and agile operations model, we are able to respond quickly to the most urgent of needs during disasters and crises. We are sourcing breakfast, lunch, dinner, and fresh groceries for the people who have been displaced for as long as our help is needed. Being able to provide a little bit of stability and meet basic needs during this time of year and as families deal with this tragedy is just part of who we are and what we do as an organization."

Both of ExtraFood's Food Recovery Drivers Cisco Leon and Trevor Palacio have been residents of this same apartment complex in the recent past so delivering food for these people has a special meaning for them.
For ExtraFood, everything starts with the needs of people in the community. Because if they have the food they need, children can learn, seniors can age in place with dignity, and adults can find jobs to lift themselves out of poverty. ExtraFood's vision is that food recovery will be a way of life in the North Bay, to enroll every possible business and school in their program and capture every possible pound of excess food.
ExtraFood is grateful to the County of Marin, Canal Alliance, American Red Cross, and the San Rafael Harbor Rotary for their important work in providing for these displaced families. The County of Marin, which is leading the response efforts, has ensured families have the resources they need including Health and Human Services, which is assessing individual needs and connecting those impacted to available resources. Canal Alliance is supporting recovery efforts on matters related to temporary lodging and rehousing. The American Red Cross provided immediate financial assistance and San Rafael Harbor Rotary is raising funds to further support those impacted.
UPDATE as of February 7th: Thanks to our financial supporters, food donors, volunteers, Food Recovery Coordinators, and our Operations Team, we were able to rescue and deliver nearly 4,000 pounds of groceries and prepared meals to the people affected by the fire.
Thank you to our community for coming together to help people in need!