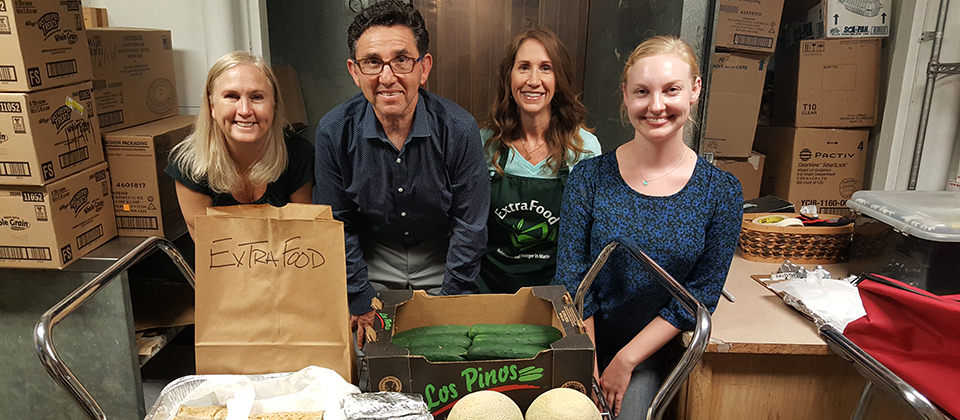 MARIN'S LARGEST SCHOOL DISTRICT LEADS THE WAY IN REDUCING FOOD WASTE.
Miguel Villarreal Helps Solve Food injustices in Marin County​

Miguel Villarreal was five years old, sitting in front of the television in his family's home in Idaho. He was watching fitness and health expert Jack LaLanne talk about wellness. Jack's words had a huge impact on Miguel, and ultimately shaped the direction of his life.
Fast-forward to today and you'll find Miguel is the Food and Nutrition Services Director of Novato Unified School District (NUSD). He is responsible for feeding 8,000 K-12 students in 13 schools. In Miguel's mission to help the students eat healthier, including eliminating 36 tons of sugar every year since 2004, and eliminating saturated fats from their diets, he noticed another problem in the district's food system: food waste.
Minimizing food waste and donating food to people in need
The journey to Miguel's discovery of food waste in NUSD's system began when he learned about the tremendous amount of edible food rotting in farmers' fields. A migrant whose family moved from Texas to farm the lands of Idaho, Miguel has the mindset of a farmer. Food that's too big, too small or oddly shaped shouldn't be squandered, it should be eaten. So, with Marin Organic, he created a gleaning program and brought Marin County families, and his own staff, to the fields to learn, and to pick tomatoes, potatoes, beets and other produce left to waste. Over time, Miguel connected back to how NUSD treated unused, edible food and it hit him: Instead of sending good food to the landfill, he could donate excess food to those in need. This would help solve the problem of NUSD's edible food waste while also helping to alleviate hunger in Marin.
Miguel is always looking for efficiencies. He has brought rigor to NUSD's food program, including ways to minimize food waste upfront. He orders just the right amount of ingredients and steadfastly orchestrates just-in-time deliveries. But like any food business, there are certain factors that cause unused, edible food to go uneaten. Whether it's a matter of kids' changing tastes (despite NUSD's thorough meal-testing process before a dish becomes a menu item), kids absent from the cafeteria because they're on a school fieldtrip, or students' change-of-mind about what they want to eat, there are untouched meals remaining at the end of the school day.
In 2015, Miguel partnered with ExtraFood, the only countywide food recovery program of its kind in Marin. ExtraFood works closely with Marin nonprofit partners that serve low-income children, adults, and families, staying up-to-the-minute on their food needs. ExtraFood's staff locates donations from businesses that meet those needs, and volunteers pick up and deliver the food in less than 30 minutes, at no cost to donors or recipients. What might normally end up in the landfill goes to help many of the 50,000 vulnerable people in Marin who need extra food the most. Half of those people are children and seniors.
"When I started working for Novato Unified School District in 2002, there was no locally-grown produce being offered to the students. That's an injustice. Today, we offer plenty of it to our kids, but not all the food is used. We had been throwing away perfectly good, healthful food at the end of the day – produce and prepared food – instead of providing it to families in the community who could benefit from it. That's an injustice. Thanks to our local farmers and ExtraFood, both of these injustices have been resolved in our efforts to improve the culture of wellness in our schools and our community," says Miguel.
Knowing he wanted to get staff invested in the ExtraFood program, Miguel brought in Marv Zauderer, founder of ExtraFood. Marv shared real-life stories with staff about the people in Marin who need more food – the many families that often have to face the choice of paying for food or paying their mortgage or medical bills.
The staff now has a deep appreciation for the donation program. Martha Ochoa, food service manager at Lynwood Elementary says, "I'm so happy someone is using the food. I'm proud to prepare the food for others, and to work at NUSD."
"Preparing the food is easy," says Christine Sirianni, food services assistant at Lynwood. "We wrap it, label it, and ExtraFood volunteers pick it up when it's convenient for us."
There are other substantial benefits to donating excess food. It saves the money it would cost to dispose of the waste, provides a tax deduction and decreases impact on the environment by redirecting food away from landfill.
Food donations go a long way to providing healthy food to those in need
One of ExtraFood's recipients of NUSD's donations is the YMCA's Hamilton Child Care program at Hamilton School in Novato. NUSD sends things like chicken tenders, sandwiches, pasta with sauce and meatballs, and burritos – a selection the children are happy to eat.
Because the YMCA is a nonprofit, the food donations allow them to reserve what they would spend on food for other services that help the community. For example, some of their families have been homeless, so the YMCA has covered childcare for their children.
"ExtraFood gets us the food we need," says Nana Sosa, site coordinator at Hamilton Child Care. "Their donations save us 20 percent every month that we can give back to the community in the form of services."
ExtraFood also delivers NUSD's food to Ritter Center in San Rafael who provides a critical safety net to 300 of Marin's low-income and homeless adults and children. Meat and cheese burritos, spaghetti, Chinese food, sandwiches and enchiladas are a few of the types of food donated.
"The food is high quality and nutritious. It's food that people want," says Shaun Marshall, services and volunteer coordinator at Ritter Center. "If we didn't get the donations, some of the homeless we serve would go without dinner."
This is exactly the kind of impact Miguel seeks to make in the community. "The benefits reside with the recipients and the goodwill that comes from this program," says Miguel. "Food has always been a unifier of people and ExtraFood has allowed us to unite with our community in a manner that is beneficial to both of us."