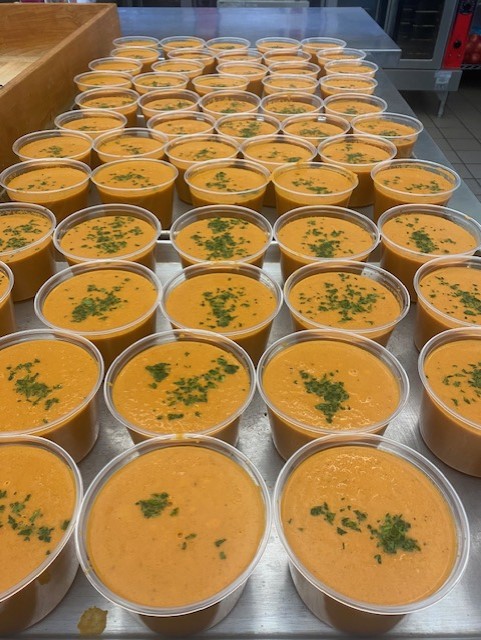 🍅🦞🍲 Serving up compassion, one bowl at a time!
We're excited to share the SOUPer Food Kitchen's latest creation: Heirloom Tomato Lobster Bisque! But this isn't just any soup; it's a labor of love made from surplus ingredients to reduce waste and deliver a hearty, nutritious meal to those who need it most.
Chef Heidi Krahling took donated surplus ingredients from Chef Ryan Scott Catering, Insalata's, and the AIM Farmers Markets and made 160 pints for our recipient partners! Chef Heidi used surplus Heirloom tomatoes, onions, fennel, celery, and herbs from the AIM Farmers Market, lobster shells and amazing lobster Demi-glace donated by Ryan Scott Catering, and butter, cream, and other staples donated by Insalata's.
Chef Heidi says "I used my Dad, Italo Insalata's recipe, he put his shrimp bisque recipe in his cookbook that he gave to his family 45 years ago. This is the same recipe, different shellfish. I put this recipe in my first cookbook and have been making it a couple of times a year for over 35 years!"

Our team delivered the soup to low-income housing communities, where we're honored to provide delicious, warming bowls of soup that bring smiles and comfort to our neighbors.
Join us in this SOUPer journey:

Spread the word about us to your friends and family
Donate to help us continue serving people in need
Together, we can make our community a warmer and more nourished place for all.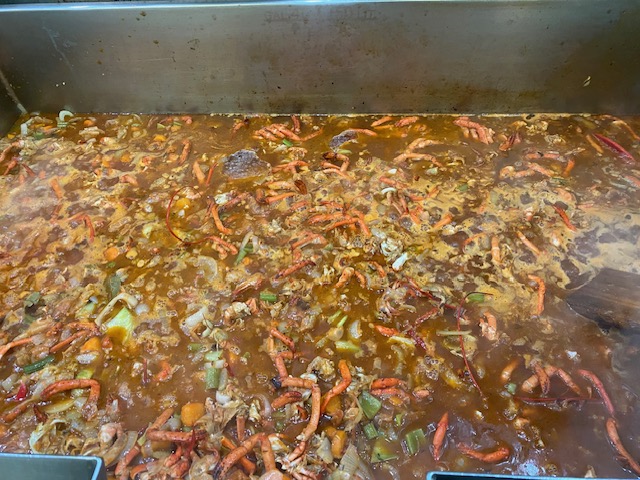 Chef Heidi makes the stock from donated lobster shells and demi-glace.